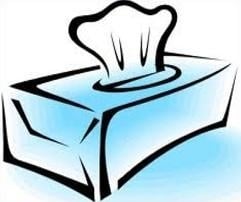 Everyone has been inundated with information about the spread of coronavirus (also known as COVID-19) over the last few weeks. People contract the illness when the virus enters their respiratory system. The main routes of entry are through the nose and mouth. There appears to be some evidence that the virus can infect people via the eyes as well.
The primary way the virus spreads is through airborne droplets expressed when infected individuals cough or sneeze. The virus can also live on inanimate objects like phones, countertops, doorknobs, etc., and be transmitted if someone touches a contaminated surface and then touches their own nose, mouth, or eye.
Our dental office carefully follows health and safety regulations to protect our team and our patients from the spread of all illnesses.  We perform infection control as though every patient is sick with a contagious illness.  This includes some of the following procedures:
Sterilizing instruments and equipment in an autoclave which is also tested for its effectiveness.
Wearing personal protective equipment like gloves, masks, and eye protection.
Placing disposable covers on frequently-touched surfaces like handles, keyboards, keypads, and headrests.
Disinfecting surfaces of chairs, counters, drawers, and handles with a medical-grade disinfectant solution that is certified to kill numerous specific viruses, bacteria, and fungi (including human coronavirus).  This product is extremely robust and well-tested (we're NOT talking about "Members Mark disinfecting wipes" here!).
Disinfecting each room thoroughly following each person's appointment and taking deliberate measures to prevent the spread of any germs between rooms.
The American Dental Association advises dental offices to follow the CDC guidelines for the prevention of coronavirus transmission in healthcare settings, and we are following those recommendations.
Some of the practices we have adopted based on the CDC guidelines include:
Waiting 2 weeks to see patients if they have been out of the country.
Waiting to treat patients with symptoms of respiratory infection until they are free of symptoms (performing dental work on someone who can't breathe through their nose is a difficult prospect in any case?).
Our team members are avoiding travel on airplanes, avoiding crowded places, and have been told to stay home if they develop suspicious symptoms.
Disinfecting the lobby counters and door handles frequently throughout the day–typically after each patient leaves.
We have removed the magazines and coffee machine from the lobby (don't worry–if you've been craving that usual post-appointment cup of coffee, we're happy to make you one that's only been touched by our team–NOT everyone who has been to the office).  We also have guest wifi, so you can use your phone even if you're low on data.
Our team is making a big effort to bring patients back to the disinfected treatment rooms right away to avoid contact with other patients in our lobby.  Typically there is only 1 patient in the lobby at a given time.  We also have sufficient seating available to maintain a 6′ distance from others in the lobby.
Treatment of toothaches can often be postponed with prescription of appropriate medications and-or antibiotics, so even in certain emergent situations, we can delay treatment until respiratory symptoms have cleared.  In the unlikely event that a patient with respiratory infection symptoms must be examined or treated right away (this is a very rare scenario for our office because of our focus on prevention and treatment of problems before they develop into emergency situations), they will be brought to the dental chair immediately, before sitting down or touching anything in the lobby, and after they leave, surfaces in the treatment room and in the lobby will be disinfected immediately.
By following these procedures we can continue to provide dental treatment in a safe environment for our team and our patients—and thanks to Dr. Gray's proclivity for bulk purchase discounts, we aren't about to run out of masks, disinfectant, or hand sanitizer any time soon!
Remember to wash your hands thoroughly before brushing and flossing, get plenty of sleep, drink a lot of water, and stick to a healthful diet to prevent any illness!
Give us a call today if you have any questions!