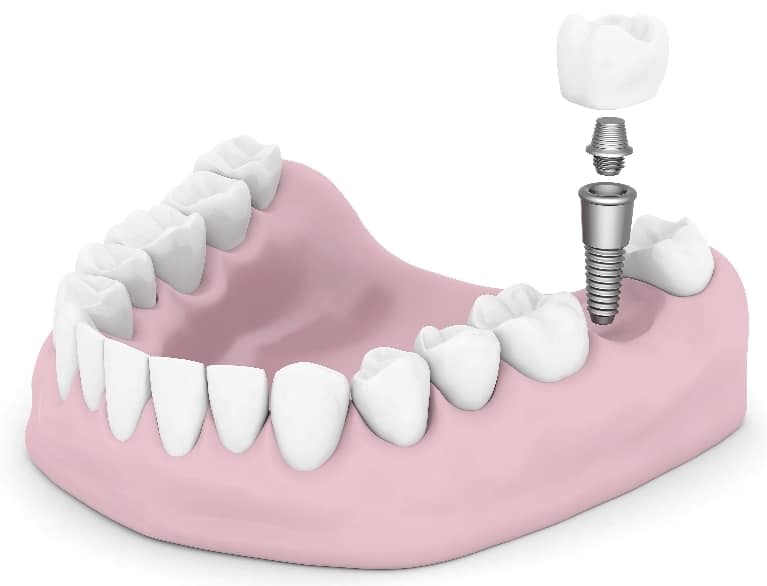 If you're thinking about replacing a missing tooth, you've probably heard about dental implants. This proven, reliable treatment for restoring smiles is the gold standard for replacing teeth. If you're one of the 178 million Americans who are missing one or more teeth, you've probably considered a dental implant, and your dentist in Fort Collins can tell you if you're a good candidate for this effective, long-lasting way to replace missing teeth.
You may already know that dental implants are an alternative treatment for removable and non-removable dentures.  However, there are also other reasons dentists frequently recommend them.
A Permanent, Stable Foundation
Dentists place a dental implant in the bone of the upper or lower jaw.  The implant is made with specially-treated titanium which fuses to the bone over time.  Once the implant is fused to the bone, a dental crown is attached to the implant to restore the function and appearance of your missing tooth or teeth.  Because of the stable foundation in the bone, the tooth attached to the implant has a firm, stable foundation that never slips or shifts when you eat or speak.
While dentures and dental bridges are an excellent choice for replacing multiple teeth, dental implants can play an important role in this treatment as well. Strategically-placed dental implants can support or retain a full or partial denture, making them less loose and wobbly.
Confidence in Your Smile Again
Having a missing tooth can have a big impact on your self-confidence.  Fortunately, with dental implant treatment you can replace your tooth or teeth in a way that looks natural and matches your other teeth in size, shape, and color. 
Dental implants and crowns are ideal for filling in gaps in your smile.  They provide a natural-looking, long-lasting, and functional replacement for missing teeth.
Improved Bone Health
Because a dental implant is made of titanium that is specially-treated to be extremely biocompatible, the material bonds with your own bone. The dental implant acts like a tooth by stimulating the bone to stay dense and strong in that area. 
When teeth are lost, the body may break down the bone in that area because it can sense that it is not being used.  This bone loss can prevent future implant placement, cause defects in the jaw bone that affect the appearance of the face, or make it very difficult to keep dentures in place.
Healthy jaw bones fill in facial hollows that may result from missing teeth, keep bone in place to help support and retain dentures, and keep your jaw strong and at lower risk for fracture.  Great bone helps you look your best and function properly.
If you're considering replacing a single tooth or multiple teeth, your trusted dentist in Fort Collins can guide you in dental implant treatment.  Dr. Gray has planned and restored numerous dental implants in various places throughout the mouth and can provide additional information and guidance about this advanced, modern form of dental treatment.  Call Poudre Valley Family Dental at (970) 221-3020 to schedule a dental appointment.